Silver Stringers
Pioneering citizen publishing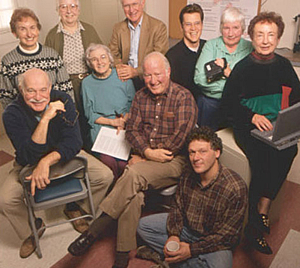 Silver Stringers is a community-centric approach to news coverage and presentation intended to train and equip its members to be reporters, photographers, illustrators, editors, and designers of a localized Web-based publication. The program is also intended to adapt and develop technological tools to facilitate the journalistic activities of the group. We are interested in enhancing grass-roots communication while at the same time learning new models for media coverage. The News-in-the-Future Consortium of the MIT Media Lab began the project in 1996, working with a group of senior citizens in Melrose, Massachusetts. Realizing that persons over the age of 50 have unparalleled wisdom about the communities where they have lived and worked, we wished to tap into the strength of the older generation in order to develop techniques for the next-generation media coverage of cities and towns.
Since the project began, we have expanded our vision to include communities of all ages all over the globe. One of them, the Junior Journal, began publishing in 1998 on a monthly basis and has had more than 300 children and teens (ages 9 to 18) participate from more than 91 countries. Publication was suspended in 2005 after all the editors had gone off to college.
---
Faculty Advisers: Walter Bender, Jack Driscoll.
Alumni Researchers: Dennis Quan, Marko Turpeinen, Ingeborg Endter, Alex Stouffs, Marco Monroy, Carla Gomez Monroy.